Since launching in 2018 we've been working to change perceptions of the area to tackle the fact that the number of 16 – 35 year olds choosing to live and work here is 44% less than the national average.
We've funded some really impactful projects and worked with a huge variety of people.
Before we enter our next chapter we're celebrating how far we've come and asking "is the future rural?"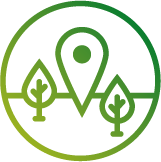 Recorded on 28 & 29 April 2021
Magazine TV show with a variety of hosts and guests:
Speakers at the event included:
Sarah Bird (Wild Rumpus) and Sam Hunt (ShuntCulture and Festival UK *2022 Programme Director) Festival Producers of Hinterlands and Aerial
Yorkshire Dales Guides owner, Steph Dwyer
Graphic Designer Sian Campbell
Local business owner and Chair of Kendal Futures Mark Cropper
Creative Director Lauren Zawadzki (Deco Publique)
Architects and RIBA competition winners  Andrew McMullan (McMullan Studio), Thomas Housden and Robin Sjoholm (Outpost Studio)
Arts, Education and Culture Consultant Lisa Jamieson
...plus a host of young people who have been working with the programme.
Clips of Creativity
Join Ava Grace (GPLD Intern) to watch short films showing the abundance of creativity that can be found in this area where collaboration and culture go hand-in-hand.
Sit back and enjoy hearing from some of the areas key cultural producers including Kettu Studios, somewhere nowhere, Blue Moose Dance Company, RagTag Arts and The Innova Collective.
Meet the Makers
Immerse yourself in some of the area's most impactful and relevant stories whilst watching short films made by local award winning young film makers.
Hear from Juliet Klottrup, Thomas Gardner, Film on the Brain and The Knotted Project as they chat with Manon Keir (GPLD Programme Officer) about their film-making practice and experiences of living and working in the heart of the Lakes and Dales.