Artistic tributes to town's heritage unveiled for Skipton Now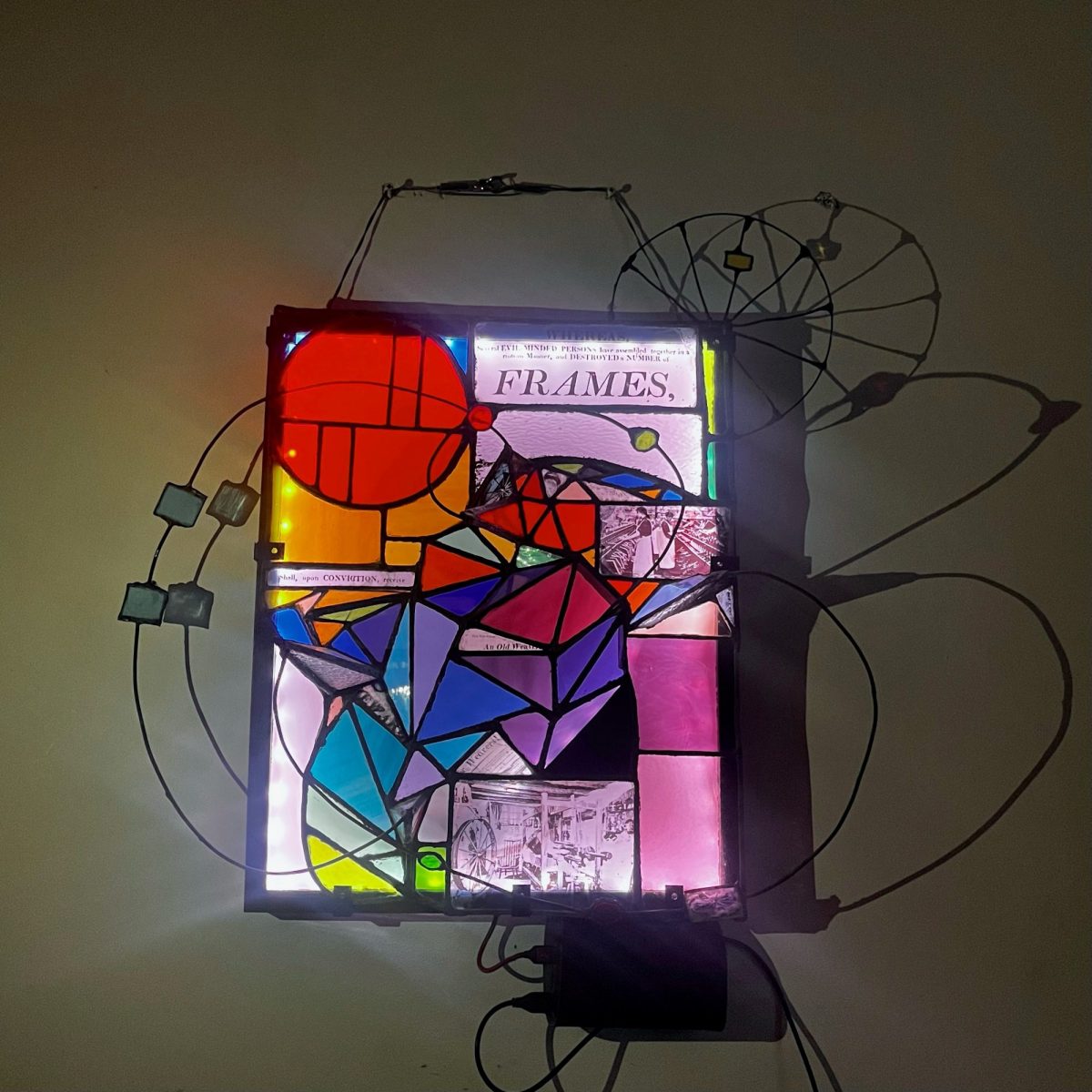 Four artists have created imaginative works in response to Skipton's rich cultural heritage. The pieces, of varying designs, will be on display as part of the Skipton Now Festival, where events are happening every day in August to celebrate the heritage and culture of the town. Funded by Skipton's High Streets Heritage Action Zone (HSHAZ) programme Great Place: Lakes and Dales and Skipton Town Hall (STH) team commissioned creatives to produce artworks in any style or medium by conceptualising historic Skipton milestones.
The GPLD and STH teams also commissioned The Knotted Project to run an educational workshop to create a final composition with young people in t based on 'their Skipton' and what the town means to them and appointed creative designer and illustrator Bethan Thorsby to design the Skipton Now brand identity, logo, illustrations, posters, and more, which are visible on all the festival's promotional material.
Skipton's HSHAZ team, funded by Historic England, and GPLD are keen to encourage young people to explore and demonstrate their creativity in response to their local heritage. These commissions have provided young creatives an outlet to display their work and develop their artistic practices.
See below for the details of each creative commission and where you can find them.
Phoebe Scott – A Tribute to the Hand Weaver's Resilience – Echoes of 1842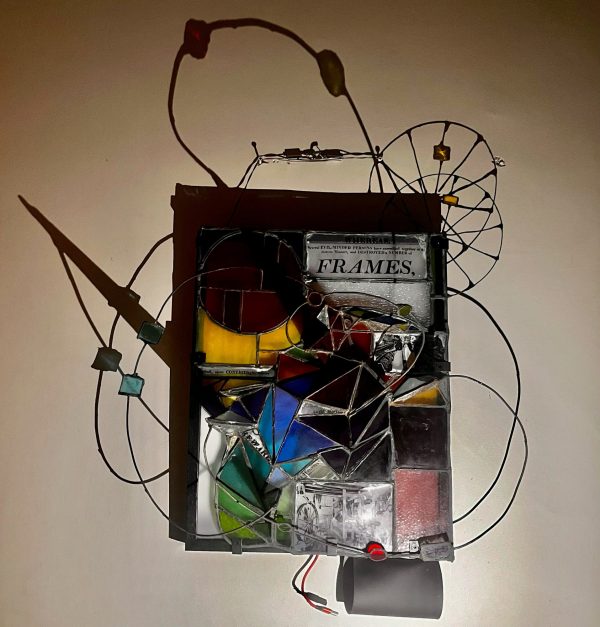 This work is inspired by the Plug Riots of 1842 in Skipton, where the handloom weavers protested against mechanisation. Reflecting upon the enduring strength of the human spirit and the importance of preserving traditional crafts as a testament to shared history. Through this narrative of resilience and defiance, Phoebe hopes to rekindle a renewed appreciation for the handloom weavers' legacy of Skipton, and a deeper understanding of the value of sustaining our craft heritage.
On display in Craven Court throughout August.
Molly Bland – A faux retro advertisement for rural life for young creatives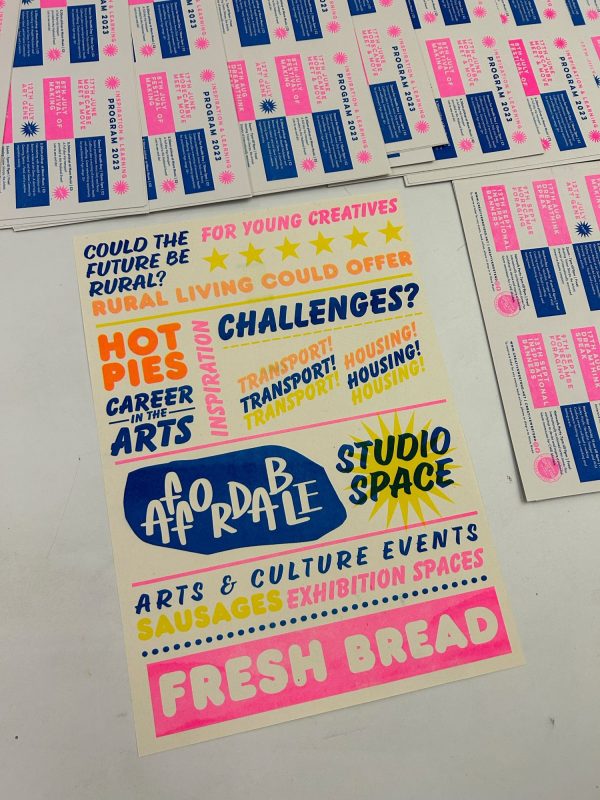 This work reflects the rich market heritage Skipton holds through the retro-looking advertisements often seen behind market stalls and sellers but links with the present-day issue of getting young creatives to have creative careers in rural settings.
On display outside Skipton Town Hall throughout August.
Falling Stars Theatre – An interactive family theatre performance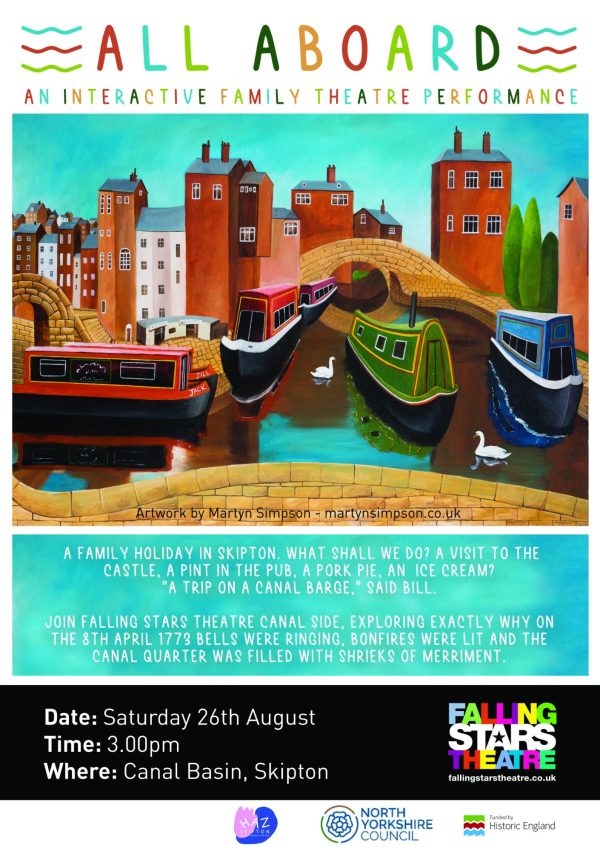 'All Aboard'! Join local theatre company Falling Stars Theatre for this interactive family performance on 26th August.
Falling Stars Theatre will be at the Canal Basin, Skipton, exploring why, on 8th April 1773, bells were ringing, bonfires were lit, and the canal quarter was filled with shrieks of laughter.
"The Leeds and Liverpool canal is the longest in Britain, stretching for 127 ¼ miles," says Bill Morris. He and his family are on holiday in Skipton, and a trip on a canal boat is next on their itinerary. When Bill meets Navvy Jim, they embark on an adventure of the canal's history, exploring when, why, how, and what.
Ruth Garrett – A documentary style film
This film uses newly shot and archive footage to depict the story of when the Riot Act was read on the steps of the old town hall on Sheep Street. This is a story that involves class dispute and cultural shifts and explores why people congregated in Skipton as part of the larger General Strike movement of 1842.
Will premiere and be available to view at The Filmmakers' Showcase on 31st August at The Plaza Cinema. Free tickets available here.
The Knotted Project – This is our Skipton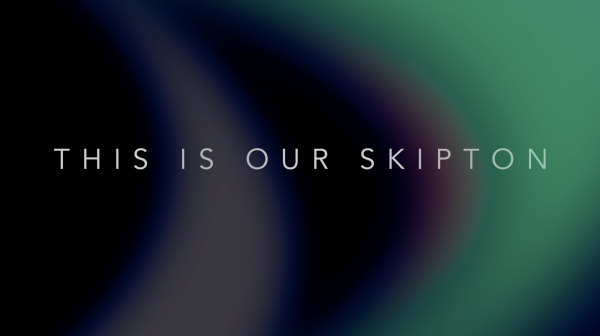 This film was created in a day and filmed by young people living in and around Skipton. Working with The Knotted Project, young people, as part of SELFA, made this film to express what Skipton and the spaces within the town mean to them.
Will premiere and be available to view at The Filmmakers' Showcase on 31st August at The Plaza Cinema. Free tickets available here.
Bethan Thorsby – Event Logo and Brand Identity Design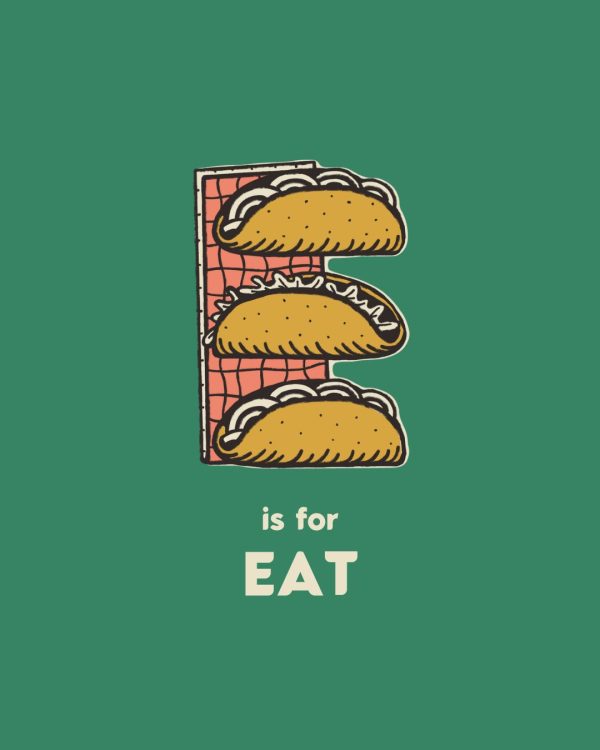 Bethan drew inspiration from important heritage aspects of Skipton to create an incredible brand identity for the Skipton Now Festival. Her work includes the name, logo, promotional material, entire festival programme and poster, all of which can be seen across the Welcome to Skipton social media and Skipton Now advertising posts. View Bethan's full festival programme here.
Beth Sculpher, Skipton Now Festival assistant, said, "The commissions have been a great opportunity for artists and creatives to connect with the rich culture and heritage Skipton holds and put their own creative stamp on the town. It's been amazing to see the diverse creativity that has come out of each commission."
Phoebe Scott, Commissionee, said "Through this commission I have enjoyed researching into Skipton's heritage, in particular learning about its involvement with the Plug riots. On a more personal level, I am more confident in my craft and thoroughly enjoyed the process of creating the work exhibited."
Skipton Now is a month-long celebration of Skipton's heritage and culture across multiple venues throughout August. Skipton's Heritage Action Zone team has been working on an extensive catalogue of entertainment and collaborated with a lot of creative organisations. View the full programme of events at www.welcometoskipton.com/skipton-now-festival.
Get updates by email
Subscribe to the Great Place Lakes and Dales newsletter