Grassington was the place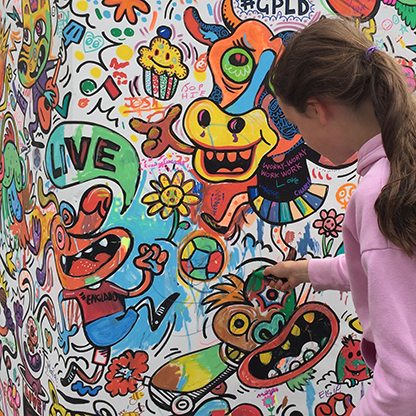 We teamed up with Grassington Festival to make it easier for younger people to access the event and to provide some free fun activities.
We worked with Hope and Social to run their 'This Must Be The Place' music project linking locations with people's memories and 'sense of belonging', which was the theme of this year's festival and helped people to explore their love of the area. The group has also joined forces with local singers to create its own pieces of location specific music.
We took the opportunity to spread the word about GPLD and to gather some feedback from younger people about living and working in the Lakes and Dales, hearing about both opportunities and barriers.
Under 25s enjoyed half price tickets on the festival bus, the public transport service linking Skipton and Grassington throughout the event, thanks to GPLD.
While the festival featured headline acts such as The Fratellis, Jason Manford, Michael Parkinson and Smokie, the team ran an array of cultural activities including 'How Great Is This Place?' free immersive arts and music in the Festival Square on Saturday June 23 as part of the 'Great Get Together'. A giant world map encouraged people to choose their favourite places and cultural genres and feedback will be fed into the programming for next year's festival.
Stilt walkers braved the cobbles, a graffiti wall inspired colourful creations and giant butterfly wings enthralled. And a number of new champions emerged who are up for helping us shout about how awesome our Great Place is. Thank you to everyone for your interest. Watch your inbox for news of our forthcoming activities.
We will be working with other events later in the year and beyond including:
Lakes Alive, September 7-9
Lakes International Comic Art Festival, October 12-14
Yarndale September 28-30
Kendal Mountain Festival, November 15-18
Settle Stories, year-round events and festival in April 2019
Skipton International Puppet Festival, October 4-6 2019
Skipton Waterways Festival May 2019
Get updates by email
Subscribe to the Great Place Lakes and Dales newsletter