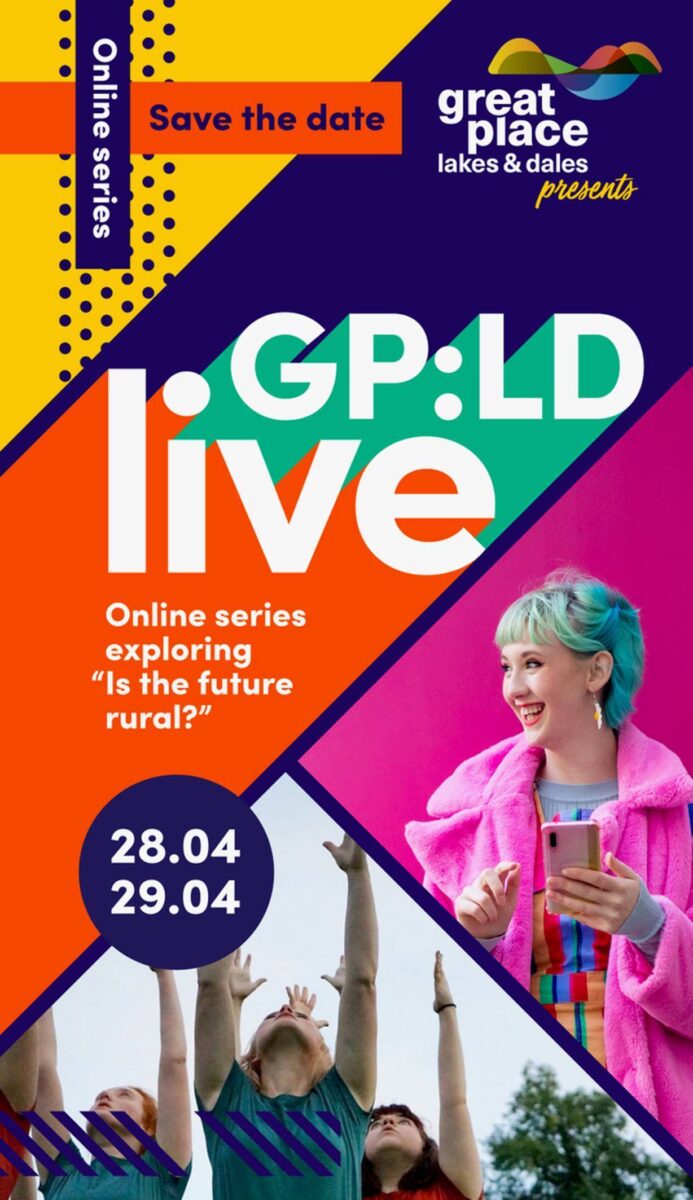 Finally, we promised to update you on the future of Great Place: Lakes and Dales. Since launching in 2018 we've been working to change perceptions of the area to tackle the fact that the number of 16 – 35 year olds choosing to live and work here is 44% less than the national average. We've funded some really impactful projects and worked with a huge variety of people. Before we enter our next chapter we're celebrating how far we've come and asking "is the future rural?" as part of a live showcase that will be streamed on the 28th and 29th  April.
The online, live event will review the programme's many creative projects that tackle housing, career opportunities, culture and local economy. This includes an architectural competition in collaboration with the Royal Institute of British Architects, which attracted over 100 submissions from around the world and will result in the development of environmentally friendly and flexible affordable housing in Horton-in-Ribblesdale near Settle and Burneside, near Kendal.
Other successful projects have included; Watch This Space, which matches young people looking for space to try out an idea with under-used spaces in the area, Create Your Future, a careers resource focused on creative careers in the area, Public Art Now! which recommends ways that organisations can work with artists to create more resilient and attractive places, and a series of cultural festivals including International Rural Film Festival, Hinterlands, and spoken word and sounds festival, Aerial. The programme has also funded over 30 small, creative businesses including Print maker Rachel Thornton, co-working space Qworkery and theatre company The Knotted Project.
Speakers at the event include Sarah Bird (Wild Rumpus) and Sam Hunt (ShuntCulture and Festival UK *2022 Programme Director) Festival Producers of Hinterlands and Aerial, Yorkshire Dales Guides owner, Steph Dwyer, Graphic Designer Sian Campbell, local business owner and Chair of Kendal Futures Mark Cropper, Creative Director Lauren Zawadzki (Deco Publique), architects and RIBA competition winners  Andrew McMullan (McMullan Studio), Thomas Housden and Robin Sjoholm (Outpost Studio),
Arts, Education and Culture Consultant Lisa Jamieson and a host of young people who have been working with the programme.
The events take place on the 28th and 29th April and will be streamed online in the format of a magazine TV show with a variety of hosts and guests. Each evening at 8pm we'll also be telling the Great Place: Lakes and Dales story through film. So grab your popcorn and join us for an entertaining look at our projects. Anyone who wishes to attend can sign up for free here.
We are proud to be one of 16 pilot projects in England funded by the National Lottery Heritage Fund and Arts Council England and focused on the rural corridor linking Skipton in the south and Grasmere in the north, including the market towns and rural hinterlands, extending into both the Yorkshire Dales and Lake District National Parks.
The programme is managed via the Consortium of Partnership Organisations, which is made up of additional funding partners including lead authority, Craven District Council, South Lakeland District Council, Yorkshire Dales National Park Authority and Lake District National Park Authority. A Creative Board, which includes additional cultural organisations oversees the strategic delivery.
Get updates by email
Subscribe to the Great Place Lakes and Dales newsletter