Speakers for our innovative training course announced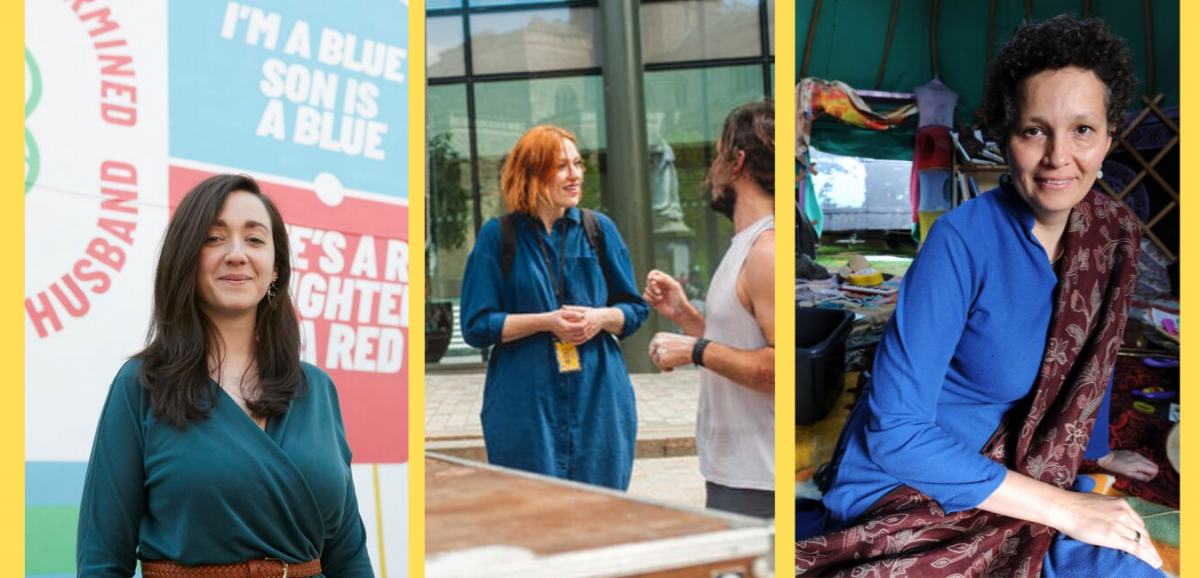 Expert freelancers, business specialists and artists are among the speakers at our free conference aimed at young people starting careers in the arts and creative industry. The first of its kind to be held in the region:
Alex Zawadzki, Creative Producer and Curator
Alex Zawadzki is a creative producer 'making stuff happen'. She is a Director of Prism Contemporary in Blackburn and has worked on projects such as: The National Festival of Making, Vintage by the Sea and The British Textiles Biennial.

Sarah De Nurtcheylo , Creative Practitioner, Nature House
Sarah provides a unique blend of Creative Resource & Development Consultancy services to nature, education, culture and history based organisations.
Patrick Towell, Innovation Director (The Audience Agency) and Executive Director (Golant Media Vetures)
Patrick grew up in Golant a village on the river Fowey in Cornwall which is why the innovation agency he runs is called Golant Media Ventures. He studied Maths at undergraduate level and, afterwards, Computing and then Film and Television. He's been running businesses for over 25 years. His career path has been zigzaggy – starting off as a runner making the tea in TV/video postproduction, running an Apple dealership, starting one of the UK's first digital agencies and for the last 13 years being a kind of hybrid creative, commercial and policy advisor.
Michelle Cowan, Business Growth Consultant & Co-Founder of Justo Software Ltd – the home of My SMART App
Michelle has over 20 years of experience working in sales and marketing including roles for Apple and Cisco Systems. She has launched 'My Smart App' which creates, schedules and posts social media content for businesses. In her session ' Sliding Into Your Customers Feed – Kick Start Your Social Media' she'll help you get the most out of social media to enhance your career or business.
Ginny Scholey, Freelance Arts Consultant
Ginny has over 20 years' experience in the field of arts and creativity, leading, developing and delivering programmes of work in the heritage, education and cultural sectors. Alongside her freelance consultancy work, Ginny is an entrepreneur and has set up her own green space plant business. In her free time Ginny is a keen gardener and adventurer.
Sarah Smizz, Artist, radiotherapist, public health researcher & live-illustrative mapper
Smizz is an artist, illustrative-mapper, recently qualified radiotherapist. Her work uses socially engaged art methods to establish authentic connections and make information understandable.
.
Dana Sagal,Senior Partner Consultant at MC Consulting
Dana Sagal is a trainer and consultant specialising in fundraising. Having started her career in the arts & cultural sector, she now works with charities and not-for-profit organisations across the UK, Europe and Africa.
Ian Read, Head of Participation & Learning, Lakeland Arts
Ian Read currently heads up the Participation & Learning programme at Lakeland Arts. Lakeland Arts manages Abbot Hall Art Gallery, Blackwell, The Arts & Crafts House and Museum of Lakeland Life and Industry and has just opened the £20 million Windermere Jetty on the edge of the UKs largest lake.
Ebru Evrum, Yoga Teacher
A qualified Ashtanga Vinya- sa, Hatha Yoga and Pilates teacher. Ebru is opening her own yoga and comprehensive Pilates studio in Skipton at the end of September along with her own range of activewear.
Susan Briggs, Tourism & Network Specialist
Susan has helped over 8000 individuals and small businesses to develop and thrive in tourism, arts, craft, food and drink.
Sita Brand, Director, Settle Stories
Sita Brand is a storyteller, writer, producer, educator and mindfulness teacher. Sita founded Settle Stories to use the power of story to change lives.
Kristyna Baczynski, Artist, Illustrator, Cartoonist
Kristyna creates her own comics, zines & prints as well as for commercial illustration and design projects for a range of clients including Twitter, Etsy and Arté.
Rob Young, Writer
Rob Young is an award-winning writer. His first feature, Miranda, starred Christina Ricci, sold in 22 countries and won the Audience Award at London's Raindance Film Festival. He has since been commissioned to write original feature screenplays for BBC Films, Working Title, Filmfour, Helkon and Ruby Films. He has also been commissioned to write original scripts for the BBC, Channel 4, Radio 4, Aardman, Baby Cow, Sony, Carlton, Endemol, Ruby Films and Touchpaper TV.

Anthony Briggs, Co-Artistic Director & CEO, LUDUS Dance
A multi-disciplinary performance maker, producer and facilitator. Working with different artistic collaborators through briggsyproduces.
Danny Bulmer, Creative & Brand Consultant
Danny is a designer, social innovator and food start-up business owner, his creative output has been multi-disci- plinary but always wrapped around creating memorable experiences with a positive impact.
We're really excited to welcome them all to Austwick near Settle, North Yorkshire at the end of this month.
Play Work Stay is an innovative training course taking place in the Yorkshire Dales 27 – 29 September 2019. Places are open to 18 – 25 year olds with an interest in working in the creative industry. This might include visual art, craft, music /DJing, film, photography, dance, drama, media, digital technology, theatre, writing, performance, sound & AV, gaming or Arts & Heritage management (such as producing, curating, events, museums, attractions.)
The course is free and accommodation and food is provided.
It's being created by GPLD consultants:
France-Leigh Hadrysiak, Creative Consultant, Jael Williams, Arts & Heritage Consultant, Karen Merrifield, Director of Innovate Educate and Emily Wilson, Creative Consultant.
Why are we doing this?
The Lake District and Yorkshire Dales is an incredible place to live and work. We want to lead the way in setting young people up with the skills they need to navigate the job market of the future. Play Work Stay will teach you more about setting up a business, working as a freelancer or developing a career in the creative sector – all growing markets in the UK today. It will also help you build a career that allows you to be creative while earning a living; enabling you to find ways to work with traditional business, offering services that help them to innovate and develop.
Get updates by email
Subscribe to the Great Place Lakes and Dales newsletter