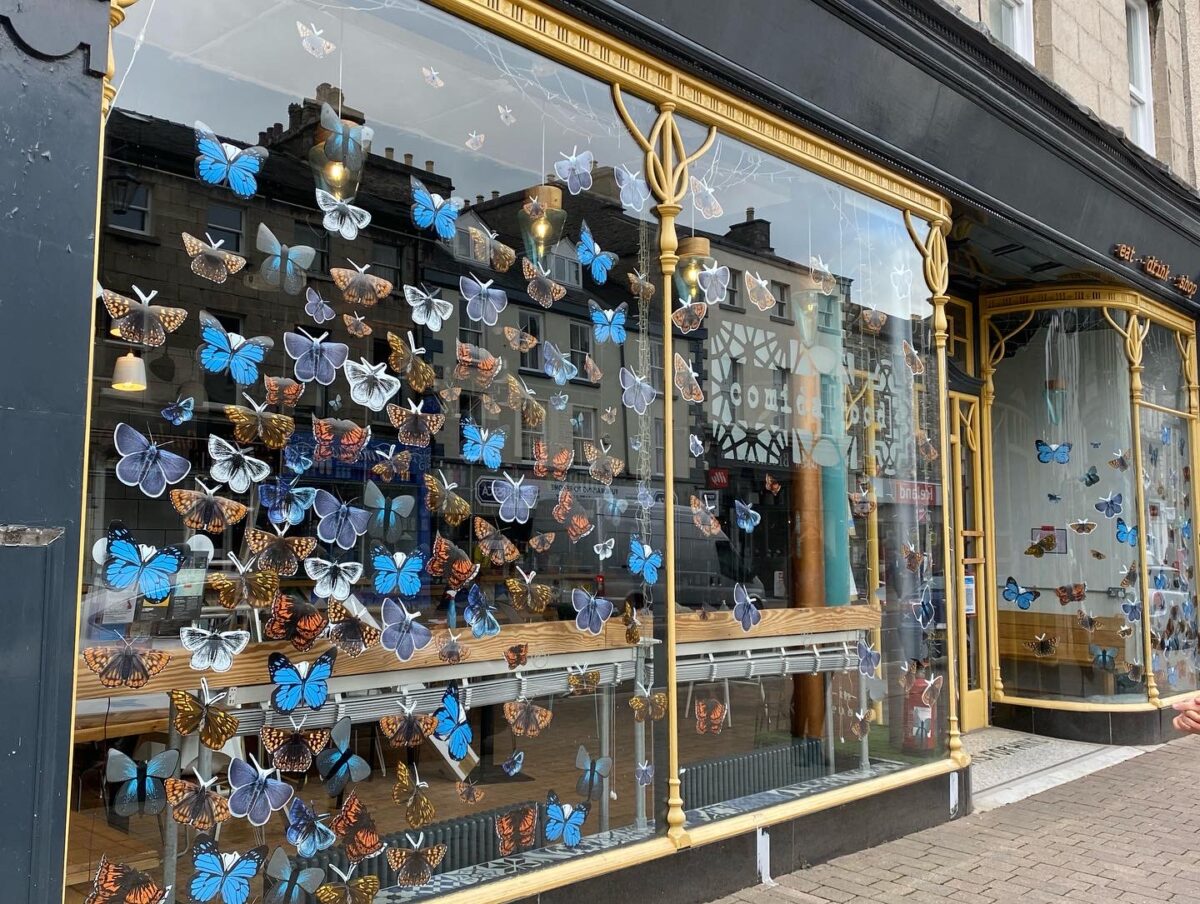 The second instalment of our project in which we match people who need a space to try out their inspiring idea with under used venues in the area began again in February adhering to the lockdown restrictions and government guidelines at the time. Two venues, Comida restaurant in Kendal, and Yorkshire Dales Guides' barn in Stainforth, have been used for four unique projects.
At the end of March, Film-Maker Clementine Bogg-Hargroves and her company Get Giddier developed their film-making skills at the barn. They created a short film which responded to the barn and its surroundings on a normal working day. You can find out more about the weekend on our IGTV and Get Giddier will be releasing the final film on their You Tube channel in May.
At around the same time, over in Kendal, Graphic Designer and Artist Steph Fulke joined forces with Design students from Kendal College to take over Comida Restaurant. They used the space to create an incredible art installation which raised awareness of Back On Our Map's work to reintroduce multiple rare and endangered species of  flora and fauna back into the South Lakes and Morecambe Bay area.
Comida was also used by Writer, Melissa Davies to create a live poem. People passing by could watch as Melissa created a poem from responses she had been collecting to the question 'how do you feel when you step outside your front door?'. They could also watch virtually on our Instagram channel and as part of Kendal Poetry Festival. Watch her in action here and keep an eye out for the finished poem coming soon!
At the end of this month, on the 24th and 25th April, Poppy Avison-Fell will transform the Yorkshire Dales Guides' barn into a circus arts centre by inviting professional circus artists to use the space, network with each other and deliver public workshops to engage the community with circus skills. If you'd like to get involved email info@poppinspresents.com or call 07925024713, places are limited and the event adheres to Covid-19 restrictions.
Artist Marisa Crane will then be creating a miniature artist's residency at Comida on the 26th and 27th April. She said: "After moving back to Kendal after finishing at art school, the thing that has been holding me back the most with developing my artistic practice is the lack of space and facilities. This is something which was reflected by other young people in The Fold co-design group held last year. There are no accessible spaces for young artists/makers to work in, which is stunting their creativity, and therefore the creative potential of the Lakes." She will create a dynamic space run by young creatives where all practices are welcome in a shared space where you can make, collaborate, and crucially document your work. She hopes this will lead to a stronger community of young creatives who feel empowered to come together to fund their own space, as well as showing local business owners what creative work can be shown in their spaces, and therefore hopefully creating more opportunities for young artists. If you'd like to get involved email marisacraneart@yahoo.com
Get updates by email
Subscribe to the Great Place Lakes and Dales newsletter